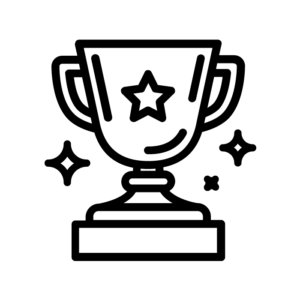 Gold Sponsorship
The gold sponsorship creates a high level of exposure throughout the pre-event marketing, week-of event and event activities as well as the post event follow-up. Showcase yourself as an industry leader!
Your Benefits as the Gold Sponsor
The gold sponsorships are limited to THREE companies and must be of a non-competitive nature.
Large booth in a prime location

Logo and link on the sponsorship page of the event website

Logo displayed through break set-up

Sponsorship signage

Logo on 5 pre-conference communication emails

Logo on 2 post-conference communication emails

1 article in communication to attendees and prospective attendees

1 leave-behind marketing piece on lunch tables (1 day) (sponsor to provide item)

Logo at lunch 1 day (non-exclusive)
2 full conference tickets

Welcome reception logoed item such as napkins, trinket on tables (sponsor to provide item)

Marketing insert in the swag bag for all attendees (sponsor to provide item)

Featured article to attendees
Logo on hold screen in sessions

Special mention from the main stage in general session

Logo on attendee name badge

Team report and debrief for your company
Sponsorship Add-Ons
Business card raffle from the podium – $200
Scavenger hunt / bingo card – $150
Lunch high top – $100 per day (four available per day)
Tech room demo – $1,000 (five available)
Breakout Session Speaker – $1500 (one available)
Wi-Fi – $5,000 (one available)
Bags – $2,000 (one available)
Break-Out Room – $795 (two available)
Interested in Partnering as a Gold Sponsor?
Book your package now or talk to your Event Manager Brittney to explore your options on a call.